WHAT YOU NEED TO KNOW...
---
WHAT DO COACHES DO?
---
A coach uses skillful conversations: asking questions, exploring, supporting and giving feedback that facilitates learning, change, awareness and action.
WHAT IS THE BASIC PHILOSOPHY OF COACHING?
---
Simply put, that humans are naturally creative, resourceful and whole! We're all discovering what we really want, and we can get what we want faster and easier by having a coach who can help us remove the obstacles that get in the way of success.
WHY DOES COACHING WORK?
---
Coaching works for several reasons:
Synergy between your coach and you creates momentum.
Better goals are set -- ones that naturally pull you towards the goal rather than goals that require you to push yourself to the goal.
You develop new skills, and these skills translate into more success.
HOW IS COACHING DIFFERENT FROM THERAPY?
---
Coaching

Therapy

Action Oriented
Thoughts/Feelings Oriented
Tools:

Inquiry
Listening
Accountability
Reflecting
Requests
Confronting
Goal-setting
Interpreting
Strategic Planning
Diagnosing
Telephone & Email
Face-to-face at a
special time and place
Since this is a coaching program and not therapy, this means that every single session ends with, "Okay, now this week, go out and practice this skill or tool" rather than, "Our time is up. See you next time." This was one of my biggest frustrations with therapy. I felt like I spent weeks and weeks talking but not getting anywhere. To be sure, therapy is an important part of the journey, but if you're done just talking about what happened and are ready to do something about it, then this program is for you.
WHO HIRES A COACH AND WHY?
---
People hire a coach because:
They want more from themselves and their life.
They want to grow personally.
They want the process of change or management of a situation to be focused and directed.
It's that simple. Coaches help a client get all three.
WHAT HAPPENS WHEN YOU HIRE A COACH?
---
Many things can happen, but the most important are:
You take yourself more seriously.
You take more effective and focused actions immediately.
You stop putting up with what is dragging you down and holds you back.
You create momentum so it's easier to get results.
You set better goals than you might without the coach.
DO YOU WORK WITH SURVIVORS OF DIFFERENT TYPES OF ABUSE?
---
Yes! While my primary focus is working with survivors of childhood sexual abuse, I have also worked with clients who have solely experienced physical, verbal, and/or emotional abuse as well as clients who have experienced assault/rape in adulthood. For these clients, we use an adapted version of the Beyond Surviving, and these clients experience the same transformation and results as my clients who have been sexually abused.
WHAT ARE THE NITTY-GRITTY DETAILS?
---
Coaching sessions are conducted by phone or Skype. In addition, email and phone support are available between sessions for quick check-ins as well as a monthly group Q&A session. Sessions consist of time spent clarifying your intentions & designing goals, checking in on progress made from week to week, and delivery of skills, strategies and tools to support you in reaching your goals. All information disclosed in our conversations is confidential and may not be revealed to anyone without your written permission. Learn more.
START YOUR JOURNEY TODAY
---
To start your journey to Beyond Surviving, your first step is to complete a brief application to receive a complimentary Discover Your Genuine Self session.
During our time together, we will:
Discover the #1 belief that blocks you from letting go of the past and moving on with your life
Create a vision of the person you will be once you strip away the lies and pain of abuse
Identify your fears and doubts that keep you from achieving this vision
Learn the powerful actions that will move you from feeling burdened and broken to finally feeling free and normal
Decide if the Beyond Surviving program is the best next step for you
START YOUR JOURNEY TODAY!
---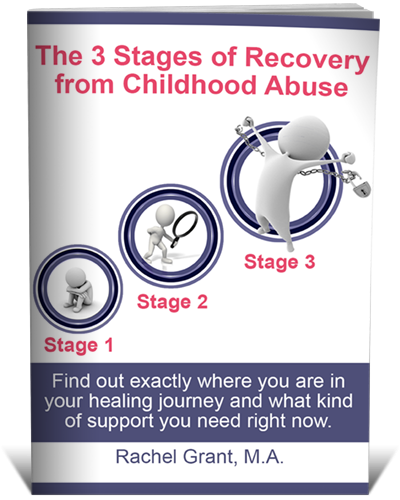 Sign up for my free guide so you can stop spinning your wheels and instead navigate your way through each stage of recovery with ease and clarity. Get the support you need today!
GET YOUR COPY